Refillable Cleaning Products
I am jumping around with joy that I can finally launch my online refillable service for household cleaning products from the most INCREDIBLE brand... FILL!
These glass bottle products from Fill are available for you to send back to us at Plastic Freedom HQ to get them refilled as I have 200L barrels of each product all set up to refill your glass bottles - and I can send these barrels back to Fill for them to refill too! By doing this we are cutting down on A LOT of plastic waste!
BUY THE GLASS BOTTLE WITH CLEANING PRODUCT OF YOUR CHOICE
You can also choose an extra spray or pump lid that fits the bottle perfectly
KEEP THE BOX YOUR FILL PRODUCT COMES IN SO YOU CAN SEND IT BACK WHEN YOU'RE READY FOR A REFILL!
PLACE YOUR ORDER FOR A REFILL ONLY (and any other items you want) & SEND YOUR EMPTY BOTTLE BACK TO US WITH THE RETURNS FORM & USE WITH THE FREE RETURNS LABEL!
WE'LL REFILL YOUR BOTTLE WHEN IT ARRIVES BACK WITH US & return to you with the other items in your order!
1 - Choose your glass bottle with your chosen product
FILL products are the brand that I have been waiting to find and I am SO happy to finally be able to offer a refill service for household cleaning products for all those who aren't lucky enough to have a zero waste shop near by!
FILL work great, look cool & reduce plastic packaging waste thanks to their glass bottle which you can send back to me to refill!
FILL make everything themselves, at their own family run factory in Northamptonshire with real chemists! They combine biodegradable ingredients to create simple, modern & effective eco cleaning & laundry products.
NO DYES
NO HARSH CHEMICALS
NO PLASTIC BOTTLES
LESS WASTE
SUSTAINABLE
EFFECTIVE
NATURAL SCENTS
PH NEUTRAL
DYE FREE
BIODEGRADABLE
SAFE
CRUELTY FREE
VEGAN
REFILLABLE
SCREEN-PRINTED
GLASS BOTTLES
RECYCLABLE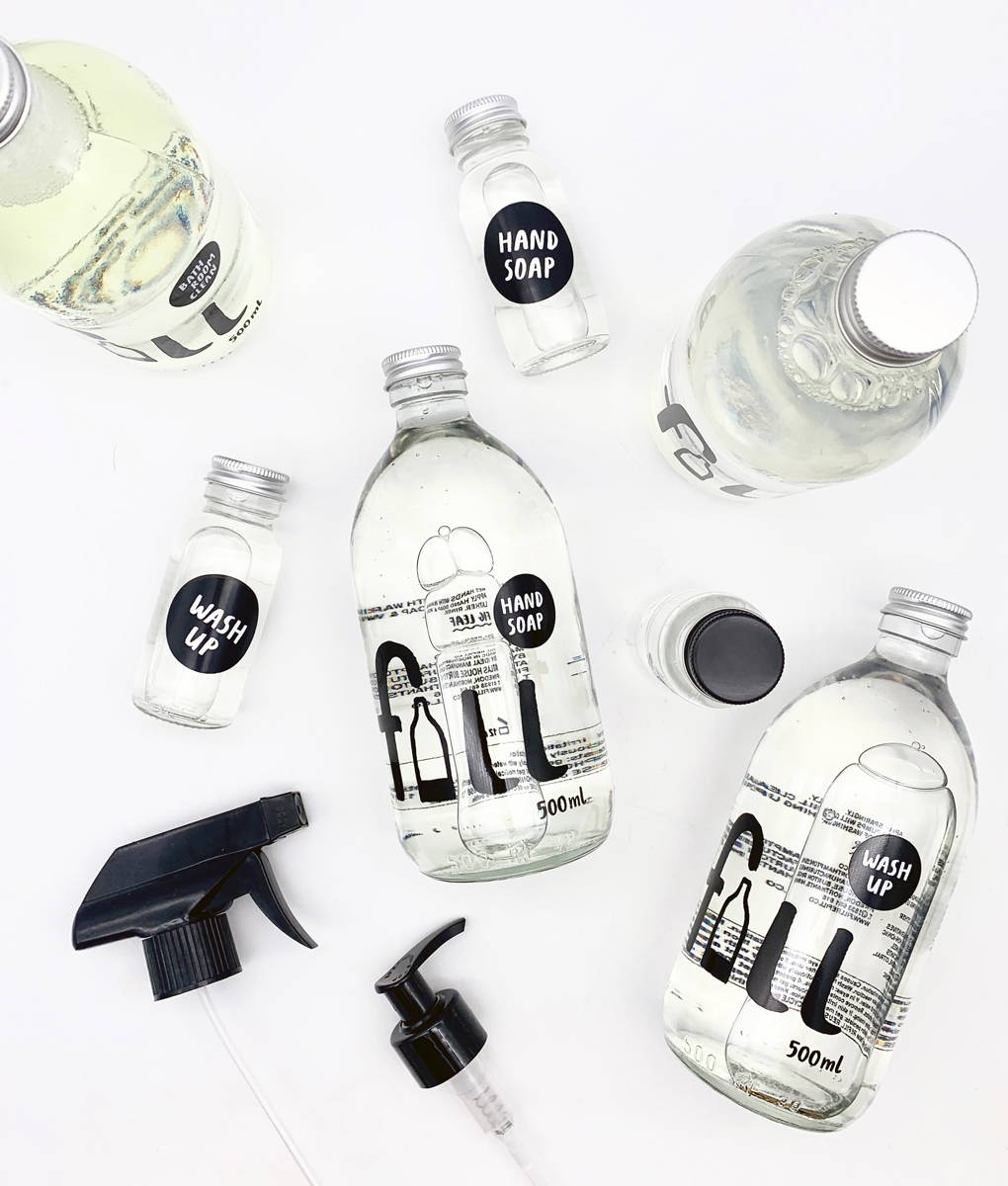 FREQUENTLY ASKED QUESTIONS
Can I use the same bottle and refill with different products?
Due to product cross contamination we are only able to refill your glass bottle with the product stated on the bottle.
How does the refill work?
Place an order for any glass bottle fill products. You will receive detailed instructions with the bottle of how to refill & a refill form that must be filled out in order for us to refill.
Can I send you my own bottle to refill?
We are unable to refill your own bottles with fill product because we need to display product ingredients & can not control cross contamination.
Will you have more products coming soon?
Yes! We started with 4 main products to get us going and we will soon stock the entire fill range!
What happens to the barrels you get Fill products in?
I chose the 200l barrels from fill because these are the ones they can take back and reuse. As their delivery driver is the husband of someone from fill, when he brings us the new barrels he can take the empties back!